Post by Zirou on Mar 27, 2008 23:38:08 GMT -5
Name
: Zirou Mitsukai Kasuya
Age
: 21
Gender
: Male
Grade
: Obelisk Blue level.
Appearance
: Longer blond hair, Green eyes with a tint of hazel mixed in, pale skin. He wears a black shirt and black jeans with red straps on jeans (Think kind of like what Seto wears, but baggier jeans), crimson leather trench coat. He stands at 5 ft 11in.
Personality
: Mostly a hikari but was broken and turned insane. He still tends to show his hikari side in certain situations. Basically a gentle natured guy with a certain fondness of messing with egotistical psychos (like Marik and countless others). He favors his mage abilities in combat as well as weapons. Sometimes daggers or bows+arrows, or his two most favorite weapons Ryujinn-The Blade of the Ancients. And Shouten-The Blade of Demise. He's a jack-of-all-traits in his own mind.
Picture
: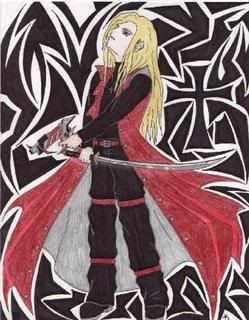 Bio
: Zirou was working for an organization called I.H. to help out Japan. Then they betrayed him... so now he decided to join psycho school and plot for world domination. Being a higher level mage/warrior one can do this. Not to mention, messing with Marik is a great pastime, as well as trying to win the heart of a fair woman in his spare time.
Other
: He is searching for a love.
Role play sample
:
Zirou was walking along the hallway trying to get his bearings in this new place he had just arrived in. He noticed the sign on the door to his left reading
Kasumi Miyagi: Psycho Psychologist
with the letters in a hot pink hue. He opened the door and looked in noticing the silver-haired young woman with pigtails hanging down her back writing down some notes on a notepad looking out the window. He smiled softly and made sure not to make a sound.
This place may be a bit different, but at least I found something I like about it now
, he thought to himself.
He quietly took a few steps up to her desk and cleared his throat. "Excuse me," he called. "I was wondering if you might be able to help me... My name is Zirou Kasuya, and I'm a new resident here at the school." He noticed her turn around to reveal her soft pink eyes and he smiled a bit. He watched her walk over and hand him a key with a room number on it.
"Welcome to the Psycho School, Mr. Kasuya." Kasumi smiled softly while handing him a school manual. "Dinner starts at six o'clock sharp... and we do NOT reserve portions for tardy guests... and... do be sure to carry some kind of weapon on you... the teachers around here tend to test their students in various ways."
Zirou smirked and waved his hand producing a small fire-ball letting it hover over his open palm. "I'm sure I can manage, Miss Miyagi... thank you for your time." He walked out looking back at her once more before closing the door.
Kasumi Miyagi...
he thought,
such a pretty name for such a lovely young woman... I'll have to be sure to see her again.
With that thought, he continued walking off to find his room before dinner.
Quote
:"Life isn't about how many moments you live, it's about the moments that take your breath away. To cherish in these moments take a hold of them as long as you can for they may never come your way again. When you're knocked down stand back up firmly and take in that moment and learn from it, breathe it in deeply and let it make you stronger. Cherish it and learn from it to become better. But remember to always let love lead your heart, and grow from it let it in and let it consume you for there is nothing better."