Post by Ame Hotaru on May 20, 2007 16:45:11 GMT -5
Name: Ame Hotaru
Age: 14
Gender: Female
Grade: Slifer
Appearance: Long hair, up to her mid-back, darkish blue eyes, glasses, hat, white shirt with black colar and yellow tie, black skirt, black knee highs and short brown boots. She is not tall, yet not short. She is about 5'6 and a half. She wears glasses most of the time, but mostly needs them for reading. She takes them off when she is having fun with her victims. Hey, who wants bloody broken glasses?
Personality: Can be quiet, talkative, noisy sometimes, hardly happy, a bit crazy, random. She can also be very weird. She can keep talking about one subject and let the people she is talking to look at her wierd. She doesnt care though. She likes it when people call her weird, crazy, psycho, names like that. She takes them as compliments. She also has another side to her. Aka: Spilt personalities. Her other side is more...gory.
Picture: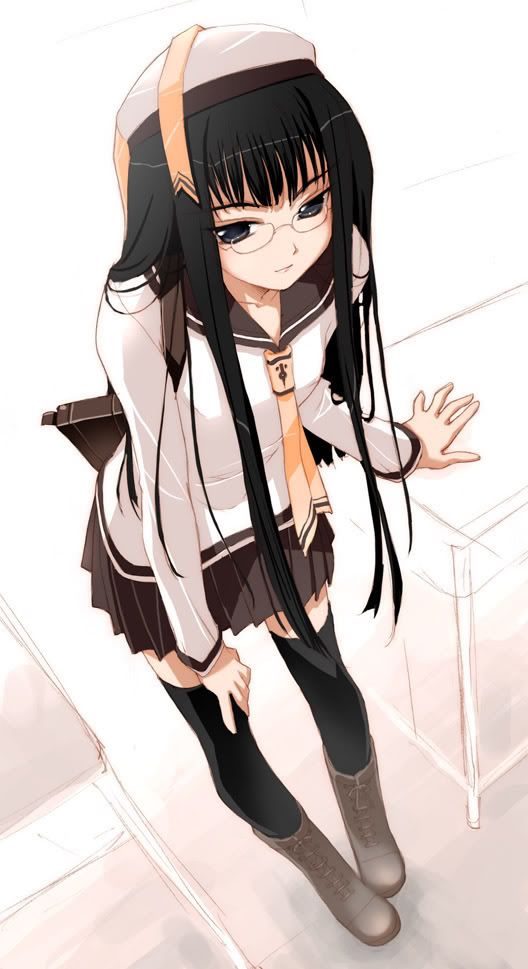 Bio: Ame is a quiet girl. She can get talkative sometimes, but rarely. She mostly talks to people who are her friends. She hates it when people disturb her when she is doing something. If you
keep messing with her, she will hurt you. Not badly, but enough to feel it. Her parents abandoned her since she seemed to have a mind of a Psycho. She didnt care though and continued her ways. She likes meeting people who are like her. She looks innocent, but thats how she gets away with things.
Other: She loves animals, especially black animals, playing the drums, reading, daydreaming, shiny pointy things, going on the computer and music.
Roleplay Sample: Ame was sitting on her bed looking thru her cd collection. She loved dark music like metal and rock. She finally picked a cd, put it in her cd player and put on her headphones so she wouldnt disturb her room-mate. Not like she cared since her room-mate was a total jerk towards her. Ame picked up a book and started reading it. Her room-mate came into the room looking bored. Ame didnt realize she was grinning like a mad man since she was reading her book and listening to music. A minute later Ame felt her head-phones being ripped off her head. "Hey dork, no listening to that stuff in my room!". Her room-mate said while trying to take her cd player. Oh wrong move. Ame grabbed her hand and twisted it. "Dont touch my stuff, I dont touch yours so you better not touch mine..." Ame said. Her room-mate just gave her a look of disbelief. "Dont touch me!" her room-mate screamed. Ame just blinked and let go of her. "Dont yell at me"Ame took her elbow and punched her room-mate hard in the stomach and then kicked her into a wall. "One: This is OUR room...I can listen to whatever I want. Two: Dont mess with me when im reading or listening to music and three: Dont yell at me...EVER!" Ame's eyes looked evilsh when she was saying that. Her room-mate just nodded and ran out the room. Ame grinned" Good" she mumbled her herself and continued listening to music and reading.